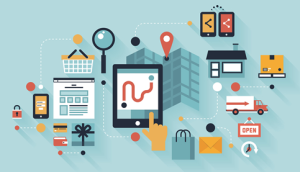 Author: Stephen Zarick, CEO, VO Sales Group  (www.vogroup.com)
Someone asked me this week what I am seeing trending in Retail.  I have been to trade shows, I have customers that sell all things retail from POS, to MobilePayment to the Warehouse and Distribution.
I see a lot from where I sit. I have the luxury of talking with a lot of vendors in my week and month.  There are some very cool trends happening right before us and you will be adopting these trends gradually over the next few years.  The retailers will also be adopting new technology and hence gathering information on you….and I think the retailers will know things about you that the government would like to know.
TRENDs
MobilePOS and MobilePayment of course is trending….but it's more than what most people think.  There is a lot going on with ApplePay, Google Wallet, PayPal…that most have never even explored.  This is really just the beginning of this trend, all ApplePay does is allow you to NOT swipe your card and use your finger print (chip n pin), but you still have to at some places type your phone number, sign, and enter digits; just more things to do to check out.
Then there is the mobile payment piece for the sales clerk like they have at the Apple Store, you will see sales clerks carrying iPod like products with a credit card swiper (called a SLED), this way you do not have to stand in a check out line.  Because of this wireless device companies such as Aruba are installing new more secure Wi-fi devices in retail stores everywhere.  You see this functionality at outdoor events as well.  The Race Track, the outdoor concert, the art show…just a whole new level of issues.
Line Jumping or Self Serve Retail
Panera Bread has a installed iPads with their complete menu.  Instead of standing in line to talk to a human, you just go to a "kiosk" or an iPad and place your order; you tell it which vibrating pod you have by it's number clearly printed, grab a seat and you just "jumped the line."  So all of you that voted YES for minimum wage hikes…well….you might have just eliminated 2 jobs at every Panera Bread.
Beaconing
We are now seeing beaconing technology but have not seen so many applications just yet, but you will.  Beacons are placed around a store for example like Dick's Sporting Goods.  Dicks will now know you by your smart phone, if you download your Dick's loyalty app, they will know you, tie your data to their POS system and then know if/when you go the golf department how many times you've been in that department this month, whether you bought anything and what you DID buy.  Dick's will know your buying habits, know your phone number, send you coupons, and then of course sell that data to others.  You will see beaconing as you walk down Michigan Ave in Chicago…you likely will be able to "window shop"….literally.  eBay will be involved in this new window shopping experience for the retailers.
Deeper App Integrations
You will see trends for restaurants that have partnered with companies such as GrubHub for Delivery.  All of this is going to be more seamless on your smart phone.  Seamless for you the customer and seamless fo the kitchen at the restaurant…the kitchen will know if they are preparing a to go order, an in-restaurant order or a GrubHub order to streamline their expediting.
Cloud Based Solutions
You would think that it wouldn't matter to you where your favorite pizza chain's POS was cloud based or not.  Why do you care if your favorite store has a server in the back room or is running off of a hosted solution in some corporate wide data center.   If the retailer is collecting all data, as in BIG DATA, and then has a loyalty card program built into your mobile apps on your phone, well…..guess what…now they know what you like to order, where you are geographically, how you pay, if you are close to one of their locations while traveling….that retailer will know more about you than Uncle Sam.  You can guess where this all leads to…texts from the retailer, offers, coupons, popping up open table so you make an reservation. Just when you though technology was going to make your life easier.
The Retail vendors must embrace this technology for the next generation of customers or they will be left behind.  The retailers themselves may see this as intrusive technology but the next generation will expect it and will not do business with the retailers that offer antiquated solutions.
This list can go on and is never ending as each phase matures to the next.
Author: Stephen Zarick, VO Sales Group